Image: Unsplash – Kristine Litvjak
[Emily Alvarenga | Contributing Writer]
The holiday filled with chocolates, stuffed animals and romance is here. And whether you're single, in a relationship or somewhere in between, Valentine's Day never seems to live up to your expectations of being an extraordinary day you will never forget. Yet every year, most never stop dreaming big, imagining a romantic day straight from their favourite Nicholas Sparks novel.
Fancy Restaurants
Expectation: You get to wear your new dress and matching heels to a fancy, candlelight dinner at your favourite restaurant.
Reality: All the restaurants are booked months in advance so you're stuck eating takeout and watching a movie on the couch in your pyjamas… like you do every other night.
Single, but hopeful…?
Expectation: That cute guy you work with will finally work up the courage to ask you out, complete with a bouquet of flowers.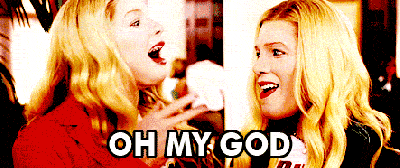 Reality: You see him kissing that co-worker you hate and handing her your bouquet, of course she's his type…
Dancing the night away
Expectation: He'll take your hand and ask you to dance, pulling you close and wrapping his arms around you. He knows how much you love to dance.
Reality: He doesn't dance.
Dinner for two
Expectation: You'll share the spaghetti and meatballs at dinner, like a scene straight out of Lady and the Tramp.  
Reality: You end up getting pasta sauce all over your new dress… and everywhere else for that matter.
His "Big Plans"
Expectation: He'll act coy, pretending he doesn't have any plans for the big night, but he has to have something up his sleeve… right?
Reality: He has absolutely no idea what he's going to do, or worse, he completely forgot about it altogether. That's love.
Home cooked meal
Expectation: Who needs some overpriced lobster meal when he promises to make you the best meal you've ever had?
Reality: He's never cooked a day in his life, so your meal consists of burnt pasta and garlic bread.
Surprise?!
Expectation: You'll get home to your apartment completely covered in balloons and rose petals, he's such a romantic!
Reality: You'll get home to your apartment looking the same as it does every other day of the year.
Chocolates galore
Expectation: He'll get you a super meaningful gift, showing you he really does know you. Like that book you've been searching for since forever.
Reality: He totally didn't get the message and gets you chocolates… lots and lots of chocolates.
Whispering sweet nothings
Expectation: Before you head out, he'll say something sweet and romantic to make you feel beautiful for the special day.
Reality: He'll say something along the lines of, "Hey babe, can you get me some crisps when you're at the store today? Thanks!"
That "special" bouquet
Expectation: You told him not to get you flowers, but he's not dumb. He'll get creative, maybe even get you a bouquet identical to the one he gave you on your first date.
Reality: He'll get a little too creative…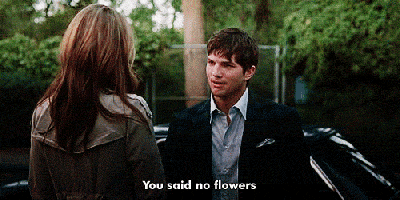 Up all night
Expectation: You'll stay up all night, talking and laughing. "Do you remember the first time we went to that little lake by your house? I remember it like it was yesterday." What a perfect way to end Valentine's Day.
Reality: He's asleep by ten, he has to get his beauty sleep… right?
The love of a lifetime
Expectation: You'll feel more in love with him than you ever have before by the end of the night.
Reality: You feel pretty much exactly the same.